Menu of Services
Click category headings for a full list of services for that category.
HAIR STYLING SERVICES
Salon Enza employs a team of professionals performing the latest fashion trends and color techniques. Stylists use only the highest quality products that enhance the integrity of your hair and keep it healthy and beautiful. Salon Enza is committed to continual education, ensuring up-to-date cuts, styles, and trends for our guests.
Prices for all hair styling services vary from stylist to stylist.
Skin Care
Salon Enza believes skin care is crucial for maintaining a beautiful look. Estheticians indulge guests with the most effective and luxurious products and services available. Each facial performed will leave your skin thoroughly cleaned, exfoliated, toned and balanced. Your facial commences with a hot towel and includes a luxurious facial massage as well as a hand and arm massage for ultimate relaxation. Each facial and resurfacer can be customized to enhance skin care by adding: Hyaluronic Enhancer, Stem Cell Enhancer, Anti-Oxidant Enhancer, Vitamin C Enhancer, Kojic Enhancer & Retinol Enhancer.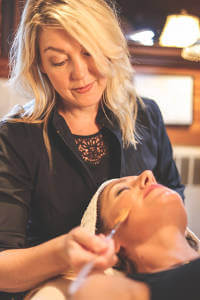 Waxing
All waxing services begin with a pre-wax gentle cleanser, and are completed with an aloe gel to calm and sooth delicate skin. Your skin will be hair free, soft and smooth to the touch.
Makeup
Salon Enza features Jane Iredale Mineral Makeup — "the skin care makeup." These products are based on micronized minerals, and are free of talc and chemical preservatives such as parabens or synthetic fragrances. Jane Iredale Mineral Makeup is the number one cosmetic line sold by physicians, was voted Allure Magazine's "Best of Beauty" Editor Choice Award, and has been featured in Shape, InStyle, Elle, and Prevention magazines.
Nail Services
Visit with Salon Enza's nail technicians to get nails that are polished to perfection.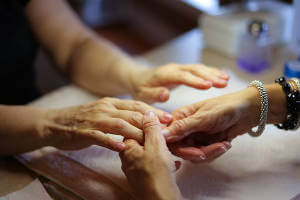 Bridal Services
Our professional stylists and makeup artists will prepare you and your bridal party for the big day. A complimentary breakfast includes bagels, juice, and coffee.
Please call our Bridal Consultant with any questions you may have about our services.